Luxury Living at its Best
Outdoor Kitchen, Pool, Spa
The Story
The scale and treatment of the landscape only intensifies the luxuriousness of this grand home. This house is so beautiful but without the proper driveway alignment and landscape treatment, it could be imposing and perhaps uncomfortable to approach.
Also, the view from the back of the house to the lake had phenomenal potential but your eyes needed to be directed somewhere specifically for the greatest effect. I started working with the consultant team and first solved how to provide a greater foreground to the house. An existing cul-de-sac was very close to the house and limited access opportunities so I moved the cul-de-sac away and added large walls and columns to frame the home and make the size of it seem smaller and more comfortable.
Trees were also used to provide that desirable human scale. I created a long axis in the back of the house to emphasize the tremendous view across the lake. This is further emphasized by introducing fire bowls at the far corners of the pool and spray jets in the pool. Each of the spaces is separate and unique but lowering the pool from the house level was natural due to the landform to create interest and reduce the amount of soil needed.
A putting green is located near the lake which is surrounded by boxwoods, roses, and crape myrtles. The clients love using their pool, spa, and outdoor kitchen areas themselves, with their extended family and for large social events.
Before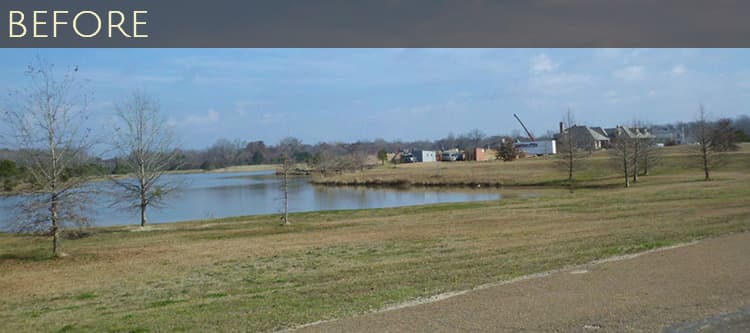 After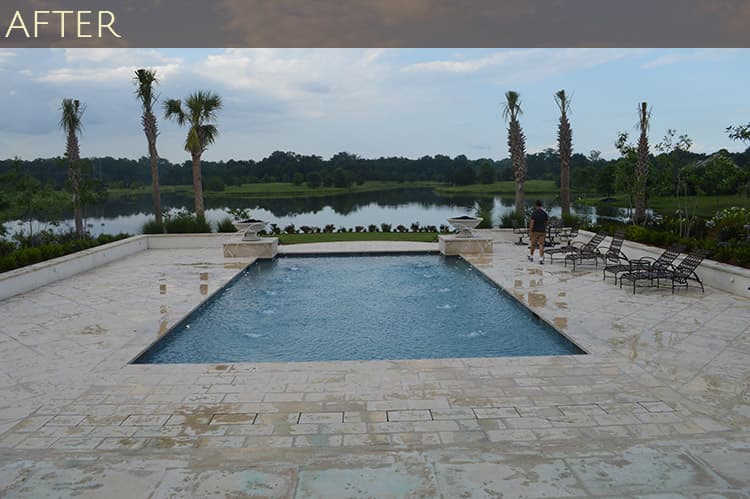 What Are YOU WaITING FOR?
Get The Outdoor Space of Your Dreams